About Martin International
Introduction | Training Center | International Services
Martin International was founded in 1982 by Captain Walter Martin, and is committed to providing the highest quality training for mariners seeking United States Coast Guard licenses and documents.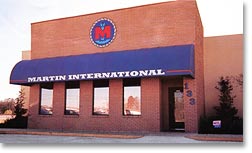 Our expertise as a training organization enables us to work closely with the offshore industry in the development of training courses in compliance with federal regulations. Our experienced staff takes pride in ensuring that the mariner receives the appropriate Maritime License for his/ her offshore career. We offer courteous and professional service to all.
Martin International endeavors to maintain the highest standards of excellence in our training courses and services.
Martin International intends to continue to grow and assist the offshore industry on any training or educational needs. We also intend to continually improve the levels of our service, instruction, and training courses, as well as offer any courses that are vital to offshore personnel.

MARTIN INTERNATIONAL'S TRAINING CENTER
In January 1998, Martin International completed construction on its new training facility in Laplace, Louisiana. This new site was selected because:
It's

located

at the intersection of I-10 and I-55 Interstate highways.

It's

located

immediately adjacent to both the Quality Inn and the Days Inn, which provide accommodations for the majority of our students. We have negotiated very reasonable rates for our students.

New Orleans International Airport via Interstate 10, is a

short 20 minutes away

.

It's conveniently

located

near several service stations and truck stops.

It's

located

near several restaurants, including full-service and fast-food.
Our building was designed from ground up as a multi-purpose maritime training facility. In addition to ample reception/office/work spaces, we have five classrooms for 20+ students each, two of which can be opened-up to make a much larger meeting space. In 2005, we purchased an adjacent 4,000 square foot building for future classroom expansion.

MARTIN INTERNATIONAL'S SERVICES
Martin International is a proprietary school licensed by the State of Louisiana to offer instruction related to the maritime industries. We are a charter member of the National Association of Maritime Educators (N.A.M.E.) and an associate member of the International Association of Drilling Contractors (IADC). Our course curriculum includes document/license preparation courses for Able Seaman, OIM, Barge Supervisor and Ballast Control Operator. Additionally, our curriculum presently offers the following U.S. Coast Guard Approved Courses:
Stability and Ballast Control for Mobile Offshore Drilling Units.
Stability and Ballast Control for Surface and Spar Units
Offshore Installation Manager (Unrestricted, Surface Units, Bottom Bearing Units, Spar Units & Tension Leg Platform Units
Barge Supervisor
Ballast Control Operator
Celestial Navigation
Radar Observer (Unlimited, Inland, Rivers and Recertifications)
First Aid and CPR
The entire U. S. Coast Guard licensing/documentation process requires more than just preparation for examinations. Martin International offers a turnkey operation to our customers by providing the following services:
Evaluation and completion of all Coast Guard required paperwork.
Physical examinations performed on site.
Photograph services provided on site.
Hotel reservations made by Martin International.
Notary services (administering of oath) provided on site for approved course graduates (this eliminates trip to the Coast Guard by the student
Record keeping of license/document files for customers and client companies
Renewal of licenses and documents is an additional service that we provide. Our "one stop, get it all done" renewal service allows the mariner to renew his license with minimal time and inconvenience.